"WestCom" – 911 Fire & EMS Dispatch for Houston's West Side
The Harris Fort Bend ESD #100 (ESD100) dispatch communications center, known as "WestCom", will soon become a piece of the Greater Houston Area's critical infrastructure later this year as it begins dispatching for multiple fire departments and EMS agencies on the West side of Houston. WestCom is anticipating to begin receiving 911 calls in 2021 in an interim center located in Community Volunteer Fire Department Station #4 until the final site (details below) is completed in 2022. WestCom will employ a staff that operates on 24 hour shifts with a total of four shift schedules. ESD100 is currently hiring dispatchers to serve in this exciting and innovative facility.
The WestCom dispatch communications center is planned to be an 11,064 square-foot facility that will be located on 4.1 acres on the Northeast corner of South Peek Road and Beechnut Street. The facility will be sized in anticipation of population growth and the corresponding increase in 911 call volume over the next several years throughout the region. The site will contain a dedicated self-supporting radio tower and an elevated structure capable of withstanding winds of up to 200 MPH. The site will also contain multiple backup electrical generators with different fuel sources to guarantee operations at all times. There is additional land on the site reserved for the future Community Volunteer Fire Department Station 5. The facility is anticipated to begin operations in 2022.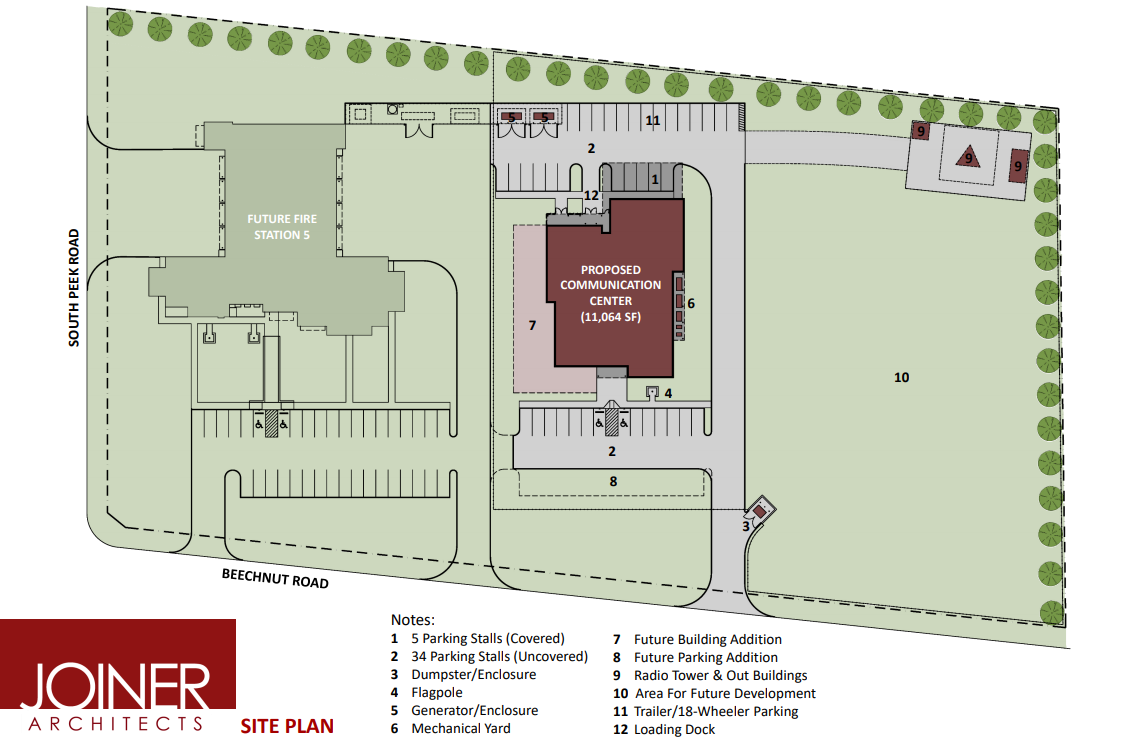 The Interim – And Redundant – Dispatch Center
Due to the time constraints of building the new facility, the WestCom operation will commence in an interim dispatch center in Community Volunteer Fire Department Station #4 which is owned by ESD100. One of the former conference rooms in the building is in the process of being renovated with additional backup power sources, acoustic engineering, and technology implementations to make dispatching from that facility possible in 2021.
While the center is being referred to as "interim", it will acutally continue to function beyond the date that the facility on South Peek Road is completed. This site will remain ready at all times as a redundant dispatch center in case any technological or communication outages occur at the new facility. It can also provide overflow capacity to allow for additional dispatchers for major events such as hurricanes or winter storms to accomodate increased call volume throughout the region.