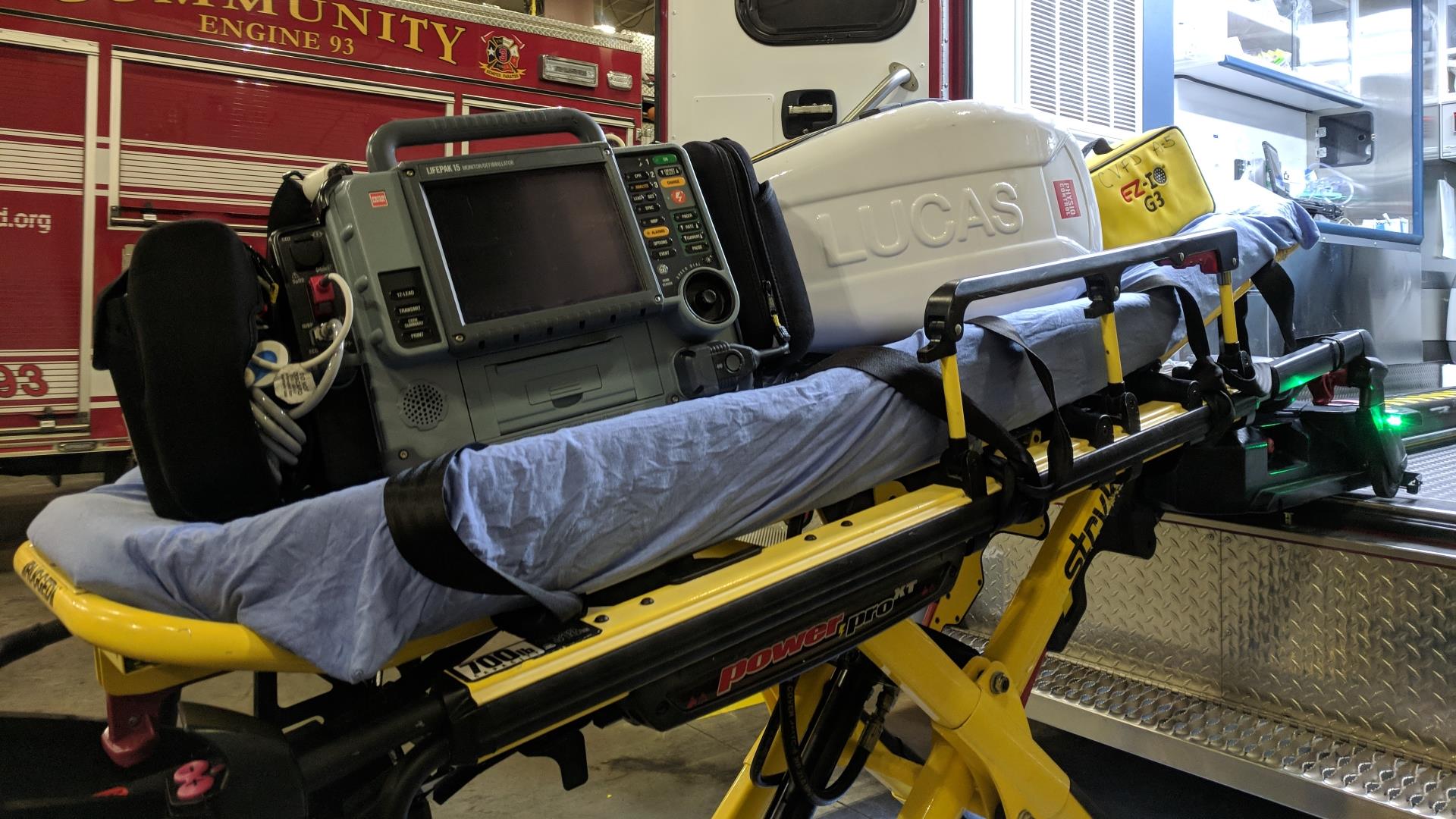 Physio Control LIFEPAK 15
The Physio Control Lifepak 15 provides a plethora of medical evaluation tools in a rugged and portable form. The monitor is able to perform tasks such as:
- Monitor oxygen, carbon monoxide, carbon dioxide, and blood pressure levels
- Perform EKGs and transmit them to hospitals
- Automatic and manual defibrillation to correct lethal heart rhythms
- External heart pacing during cardiac failure
Physio Control LUCAS 2
The Physio Control LUCAS 2 is a mechanical cardiopulmonary resuscitation (CPR) device which has been shown to improve cardiac arrest survival rates. Prior to its introduction, multiple first responders had to be dedicated to maintaining quality chest compressions but our paramedics are now able to focus on implementing other vital treatments while the LUCAS works.
EZ-IO G3
The EZ-IO G3 is an intraosseus (IO) device which allows responders to gain rapid access to the patient's vascular system by drilling into a bone in their shoulder or leg. This device is leveraged when intravenous (IV) access may be delayed or difficult to obtain. This allows the paramedic to begin administering fluids and medications sooner when every second counts.
Stryker Power-LOAD System
The Stryker Power-LOAD system improves patient safety and reduces stress on our first responders by automatically lifting the stretcher into and out of the ambulance. The Power-LOAD features a wireless connection system with the Stryker Stretcher. Once the Power-LOAD and the stretcher are securely connected, the first responder holds a button and the patient is lifted into the ambulance. Prior to its introduction, loading a patient into the ambulance was a very manual process where a first responder had to manually lift and steer the stretcher into a latch on the opposite end of the ambulance.